Click any image to see a larger view
Curt Theobald is a full-time segmented wood turner who lives and works in southeast Wyoming. He began turning in the early 1990's while working in a production cabinet shop. From 1996-2002 he owned his own custom cabinet business.
Knowledge of wood properties and precision in segmentation characterize his work. He produces work for galleries, shows and private collections around the country.
Curt has created several instructional videos on segmentation and has taught segmented woodturning to woodworkers across the US as well as Canada. He feels that each piece he designs and turns is a learning experience and provides him with a sense of accomplishment as he sees the finished vessel come to life.
Examples of his work can be viewed at: www.curttheobald.com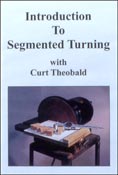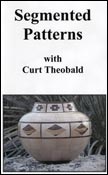 Click here to learn more about his DVD's and to purchase them.